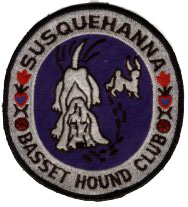 EVENTS
HAPPY NEW YERAR 2018!
Events for 2018 will be posted when information becomes available.
✴︎ We can always use YOUR HELP at our events✴︎
Come out and see what your club is doing!
For more information on any of our events contact:
Ken Engle, SBHC Sec'y /Treasurer
201 Fishing Rod Rd.
Liverpool , PA 17045-9316
717-444-3250
aengle@ embarqmail.com
If you have not paid your 2017 Membership Dues or would like to make a donation to the trophy fund,
or the raffle, please Mail your check to the Secretary, and also update your email and home addresses.
© Susquehanna Basset Hound Club 2018