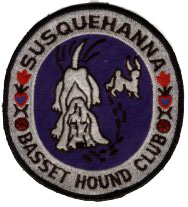 EVENTS
Spring Field Trial
April 29 & 30, 2017
Lebanon County Beagle Club
171 Beagle Road, Lebanon, PA 17046
Judges: William Milko & Mike Leaman
Specialty Shows
August 25, 2017
Papillonia Dog Training Club,
1127 Felton Road, Red Lion, PA
Morning Show Judge - Dr. Norbert Dee, Leesburg, VA
Sweepstakes Judge - Barbara Henderson, MD
4-6 Month Beginner Puppy Show, Barbara Henderson, MD
Afternoon Show Judge - Joan Goldstein, NJ
Brace classes at both the AM and PM shows
Show Chairman, Anne O'Reilly
Annual Meeting
November 4, 2017
Lebanon County Beagle Club
171 Beagle Road, Lebanon, PA 17046
Fall Field Trial * is Cancelled For This Year*
BHCA Hunting Performance Test and Meet The Breed
November 18 & 19, 2017
Central Jersey Beagle Club, Sargeantsville, NJ,
Co - hosted by Susquehanna Basset Hound Club
and
Valley Forge Basset Hound Club
*See Hunt Test PL for complete information and entry*
The Basset Hound Club Of America Nationals will be held in Lancaster, PA in October 2017
Make plans to attend!
✴︎ We can always use YOUR HELP at our events✴︎
Come out and see what your club is doing!
For more information on any of our events contact:
Ken Engle, SBHC Sec'y /Treasurer
201 Fishing Rod Rd.
Liverpool , PA 17045-9316
717-444-3250
aengle@ embarqmail.com
If you have not paid your 2017 Membership Dues or would like to make a donation to the trophy fund,
or the raffle, please Mail your check to the Secretary, and also update your email and home addresses.
© Susquehanna Basset Hound Club 2017